Join The MANY Satisfied Clients Today
The Fortune Washington Realty Group has over 10 years of Field Experience to help you negotiate through complicated Real Estate transactions.
Careful attention to your needs, creative thinking, strategic negotiations and dedication to providing you with the best experience possible is why our customers trust us to take care of their single most expensive investment.
Don't let other REALTORS convince you that you can't get what you want. Let us show you the difference!
The Fortune Washington Realty Group – A Different Real Estate Company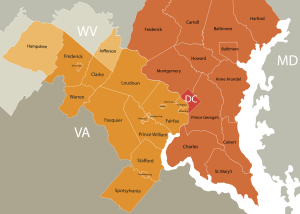 LOCAL KNOWLEDGE AND EXPERTISE
The DC, Maryland and Virginia area reflects a vibrant culture of communities, along with a desirable job market, top-ranked schools from elementary to college level, and excellent weather for outdoor activities. As a result, the real estate market here is one of the top in the country and always a point of conversation.
Understanding the unique neighborhoods and real estate markets of the area enables buyers and sellers to make the best decisions and is necessary knowledge for successful real estate agents.
HOME SELLERS
Stand out when selling your home. We'll show you how specialized custom marketing, local knowledge, and strategic negotiation will position you to get the highest price for your home.
HOME BUYERS
Whether you're a first-time buyer, move-up/down buyer, or investor, our client-first approach means you'll reach your goals faster. We bring objective insight and a strong negotiation background.
Hear What Our Past Clients Had To Say…
CLIENT TESTIMONIALS
Online reviews are a great resource when you're looking for a real estate agent. They offer real, honest accounts from past clients who have experienced the same service you are looking for.
My husband and I are moving to the area with a limited budget (we will be a single income family for a while since I am expecting our second baby soon) and selected Yiwei's name at random from the list of realtors available.
We really like his personality. He is low key, patient and makes time for us. We never feel like we are taking up his time or being unreasonable and he bends over backwards to accommodate us. He also gives great insight in the most tactful manner when asked.
When that time comes to consider purchasing a new home, he will be the first person we will call. I would definitely recommend.
– R.Y., Gaithersburg, MD
I was extremely impressed with Yiwei's depth of knowledge and awareness of my homeowners community. It was clear to me he did his homework before our initial meeting and this made the agent selection rather simple. Moreover it was clear he kept up-to-date on the community and what houses were for-sale or sold to help tailor our marketing approach. Interviewing other realtors I concluded they knew nothing about the neighborhood before our meeting and seemed rather clueless about the on-going economic turmoil and its effects on real-estate in general. I was very impressed with Yiwei's knowledge and enthusiasm throughout the sale process.
– R.C., Columbia, MD
Yiwei is by far the best realtor I have ever encountered. His professionalism and respect for his craft are impeccable. He truly cares about not just finding a house but finding a long lasting home for his clients. The housing market can be challenging, but Yiwei has the utmost patience and unwavering commitment. With his architectural background he can quickly identify both value and quality within homes. Both my wife and I highly recommend him.
– R. P., Laurel, MD
Yiwei did a fantastic job for us in selling our house and in buying a new one.
He was patient and incredibly responsive to all of our questions and needs. His knowledge of the market as well as construction was invaluable as we moved through the process. He was also masterly in the offer negotiation process to help us get the best price we could.
It was a great experience working with him and highly recommended.
-P.L, Ellicott City, MD
Let Us Show You The Fortune Washington Realty Group Difference!